Hola everyone! Hope everyone is having a wonderful Sunday! Mine has been quite a lazy one today, although I should be packing for my move back home to sunny and tropical Miami, Florida! But, I didn't. Instead, I replied to some of my readers comments and also read thru some of my fave blogs.
Mrs Monologues
is one of them and is where I found
Sunday Social Week 8
hosted by
Ashley
over at Ashley's Carnival Ride and
Neely
of A Complete Waste of Make Up. I thought the blog names where interestingly fun, so I checked them out and decided to partake in the fun!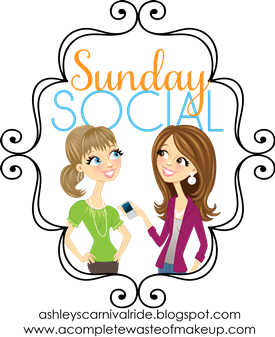 Here are this weeks questions:
1) What is your dream job?
My dream job is to be a Columnist and write my own column. So I figured I could take a trip to New York and interview for Carrie Bradshaw's position. I mean, isn't it about time someone replaces her on Sex and the City anyway? Seriously, I would love to write my own column one day preferably from home but, my biggest dream is to radiate all of my dreams from the inside out!
2) I you had just won the lottery and didn't need to work for money, what would you do with your time?
First, I'd go playing
Skip to my Lou, my darlin'
all over the neighbor just because, and not necessarily because I won the lottery (I'm spontaneous like that). Let's see, if I won the lottery, I'd probably do something like search for everyday people and families who are struggling financially at making ends meet. I'd pay their rent and bills for a whole year giving them an opportunity to save their money and build up a financial safety nest of their own. Then I'll take that trip to New York for that interview I toldya bout earlier ;)
3) When you were a kid, what did you want to be when you grew up?
I wanted to be a princess living in a far away castle, then I wanted to be a private investigator when I was 17, but now I just want to be Betty Boop! I guess maybe I haven't grown up yet...Boop-boop-be-doop (squeak!) And that's my right!
4) What piece career advice would you give to someone just starting off in your field?
Hmmmm, I'd say something like: Is this really your passion? If NOT, then don't do it! Go follow your dreams! NOW! GO! AND DON'T LOOK BACK!
5) Biggest Pet Peeves in life or in blogging or at work:
To be honest, life is to short to sweat the little things. My approach to everything I do is
how can I serve,
making it so much easier to enjoy as much as possible every task at hand. I much rather focus on the positive side of things. Although biting your crusty toe nails could be a Pet Peeve.
6) Biggest Fears:
I heard a wise person once say "My biggest fear is fear itself." I've learned that our own fears create obstacles, thus keeping us from seeing clearly and getting from point A to point B. It's not to say that I do not have fears, I am human after all. What I'm saying here is that I've also learned that when you face fear head on, the obstacles seem to vanish out of the way! Now, if I woke up to find a big hairy ginormous Gorilla in my face.....
So there you have it, my lazy Social Sunday!
Tootles!