Hola Readers! Keeping up with my "getting healthier" mission, this week's recipe is one of my favorite salads. To be honest, I love salads. Caesar salad being my favorite. Well, this recipe calls for kale. And I love kale too. My first taste of kale was in my morning green juices, which is something I'm meaning to get back to doing as well. Kale is a good source of fiber. As a matter of fact, it is high in fiber creating the bulk needed to help keep you full for a good amount of time. Here is another recipe from
Clean & Delicious with Dani Spies.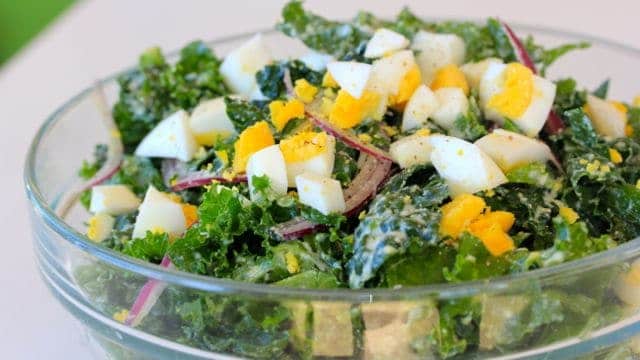 Ingredients
Salad
1 bunch of kale, stemmed and cut into bite size pieces
½ small red onion, thinly sliced
2 hardboiled eggs, chopped up
Dressing
4 oz. firm tofu
2 cloves garlic, minced
¼ cup of water
Juice of one lemon
1 tbsp. Parmesan cheese
2 anchovies
1 tbsp. red wine vinegar
1 tsp. Dijon mustard
Salt and pepper to taste
Directions
In a large bowl combine kale, onions, and hardboiled eggs. Set aside.
Blend all the ingredients for the dressing in a food processor or blender until smooth and creamy.
Gently toss salad with ½ of the dressing* and enjoy!
Makes 2 hearty salads or 4 small salads.
*Save extra dressing in an airtight container in the fridge for up to 5 days.
Nutritional Analysis
½ the recipe à Calories: 300; Total Fat: 12.1g; Saturated Fat: 3.1g; Cholesterol: 214mg; Carbohydrate: 33.5g; Dietary Fiber: 6.5g; Sugars: 3g; Protein: 21.4g
Enjoy it people! And make sure to come back and share the experience with Kale!