Hola friends! Hope everyone is have a tantalizing Tuesday where ever in this whole wide world you find yourself today! I love linky parties that entail sharing and learning more about each other as well as learning more about self, so today I will partake with Me, Myself & I link up party over at Breanna's of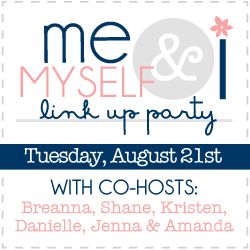 Aqui vamos (here we go) with the questions...
1) What would you attempt to do if you knew you could not fail?
If I knew I would not fail, I would definitely attempt to fly...like a free butterfly! I would soar thru the sky breathing in and embracing the wondrous, magical beauty and awesomeness of it all!
2) If you only had six months left to live, what would you do with the time?
An ultimate dream I've had for as long as I can remember is to go to a cottage in Connecticut (don't even know why Connecticut since I've never been there nor know anyone there) and
write
a book about my life leaving it behind as a legacy for those hands it's meant to fall upon. And of course I would definitely spend the rest of the time
serving
and spending as much time as I can with mi familia and friends
showing
them how much I appreciate and love them.
3) If a front page news article was written on you, what would the headline be?
Whodatiah? Just SimplyyMayra!
4) What is your biggest pet peeve?
My biggest pet peeve would have to be injustice, judging and gossip! Also, in-your-face dog slobbering kisses and by dog I mean the two-legged ones ;)
5) What is your favorite chick flick movie?
I have a few chick flick faves, but if I had to choose one it'll have to be The Notebook, 50 Dates and Bridges of Madison County. (I know, I know) c'est la vie ;)
So there you have it! Now you know a little more about me! Your turn...
Tootles!